Stories
Measuring the Quality of Pediatric Healthcare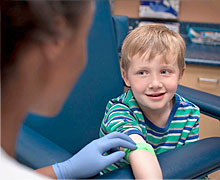 As one of the nation's leading quality of care researchers, Dr. Rita Mangione-Smith is developing innovative ways to pinpoint which medical treatments, procedures and practices improve patients' lives, and which ones fall short.
"If you don't measure these things, you can't know what's broken," she says. "And if you don't know what's broken, you can't improve care."
At Seattle Children's, Mangione-Smith spearheaded implementation of a survey, called the PedsQL, that is given to all families who provide consent when their child enters the hospital and then again two weeks after they go home. The survey asks before-and-after questions about how the child is doing physically, mentally and emotionally. By identifying whether care improves a child's quality of life, this helps the hospital team see where it needs to rethink what it does.
"We're the first ones to do anything like this and it could be a powerful model for a lot of other hospitals to follow," Mangione-Smith says.
In 2011, Mangione-Smith received a four-year, $8 million Center of Excellence grant from the Agency for Healthcare Research and Quality (AHRQ) to pursue another ambitious goal: develop ways to measure quality of care for children with complex chronic disease including mental health problems.
For example, children with multiple conditions like developmental delay, cerebral palsy, chronic lung disease, or congenital heart disease often need care from multiple health care providers in different locations. When those providers do a good job coordinating their efforts, patients spend less time in the hospital and their quality of life improves. When coordination is poor, a child's health problem can spiral out of control.
"One thing we're doing is developing ways to measure whether high quality care coordination is happening. Using such measures, organizations can determine where their care is falling short and how to focus their quality improvement work," Mangione-Smith says.
Through this grant, Mangione-Smith is bringing together a multi-stakeholder group of experts from eleven institutions including Seattle Children's, RAND, Kaiser, the Community Pediatric Foundation of Washington, Washington Department of Social and Health Services, Minnesota Department of Human Services, Minnesota Academy of Pediatrics Foundation, Family Voices of Minnesota, Cincinnati Children's Hospital Medical Center and Children's Hospital of Los Angeles. Their new quality of care measures will be used by large public insurers, including Medicaid, to evaluate care.
This could have a major national impact at a time when the value of healthcare is in the spotlight, with insurers starting to require that providers measure quality of care and achieve specific benchmarks in order to be reimbursed.
"Everyone is trying to make every penny count," Mangione-Smith says, "so it's really important to know which practices make the biggest difference in the lives of the children we care for."