Stories
MAGEC Means Less Surgery for Kids With Severe Scoliosis
Surgeons at Seattle Children's helped introduce a technology that reduces surgeries for kids with severe scoliosis – and improves their lives.
Published in Connection magazine, Winter 2017
Life threw Carmen Rhoton a curveball when she was born with severe scoliosis, but she's the one throwing curveballs now.
The 10-year-old pitches and plays third base on a softball team in Everett. "It's fun and I really love it," Carmen says.
Carmen's scoliosis could have left her unable to walk – and possibly shortened her life – but she is free to reach her full potential on the softball field and beyond thanks to a pair of surgically placed growing rods that are straightening her spine as she grows.
"She moves a little differently because her back isn't as flexible, but she has a normal life expectancy," says Carmen's mom, Angie Howard. "The growing rods make all the difference."
There's a catch, though. To do their job, the rods must be regularly lengthened to accommodate Carmen's growth. In the past, this required surgeons to reopen the original incision approximately every six months to manually expand the rods.
Since first getting growing rods when she was 2½ years old, Carmen has had 14 surgeries – each bringing a pile of worries about the possible complications, effects of repeated anesthesia and painful recovery periods for a child who was barely out of diapers when the daunting process began.
Surgery every six months is a thing of the past for Carmen and many other kids with severe early-onset scoliosis.
Home in an hour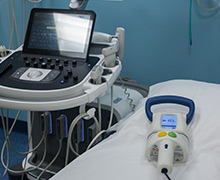 Each click of the MAGEC remote control (right) activates a magnet in the growing rods that turns a screw and extends the rod a third of a millimeter – about the width of a grain of sand.
But surgery every six months is a thing of the past for Carmen and many other kids with severe early onset scoliosis thanks to a new generation of growing rods that work like MAGEC.
The MAGnetic Expansion Control (MAGEC) system allows surgeons to lengthen a child's growing rods with the push of a button on a remote control. No incision. No anesthesia. No painful recovery period.
"They used to come for an appointment before surgery, return again for the surgery itself, spend 12 to 24 hours at the hospital and take several days to recover from the pain," says Seattle Children's surgeon Dr. Klane White. "With the MAGEC system, they come to the clinic and go home in an hour with little or no discomfort."
Seattle Children's is the regional center for early-onset scoliosis. Our knowledge and experience helped us be among the first to adopt the MAGEC system after it was approved in 2014. Carmen was one of the first patients at Seattle Children's to get MAGEC growing rods when White replaced her original growing rods last year.
"As Dr. White explained them to me, I thought, 'You must be kidding.' It sounded futuristic and out of this world," Carmen's mom recalls. "We were scared at first because it was so new, but now it's amazing to think Carmen may not need any more surgeries to lengthen her rods."
Early onset ups risks
Scoliosis can occur at any age, but if a child is born with it or develops it early in life, the potential deformity is magnified dramatically because of all the growth yet to occur in a young child's spine.
If left untreated, early-onset scoliosis can prevent a child from gaining height and weight and make their spine so crooked they become unable to walk – let alone play a sport. It can also restrict breathing by deforming the chest so badly that the lungs and other organs can't develop and function normally, which can shorten a child's life.
As recently as 15 years ago, spinal fusion was the standard treatment. While the procedure prevented the child's spine from continuing to curve, it also prevented the spine from growing – an example of the cure being almost as bad as the disease. "They'd be 12 years old and stuck with the chest and lungs of a 3-year-old," White says. "Imagine climbing 10 flights of stairs with a belt cinched around your chest. That's how every breath would feel to them."
The development of the first generation of growing rods launched a new era of care beginning in the early 2000s. Our spine program was among the first to offer this game-changing solution for addressing spinal curvature without stopping spinal growth. We now have one of the largest growing rod programs in the country and are a leader in studying the impact and effectiveness of growing rods.
"Now we can focus on normal kid stuff and not worry about the next surgery. It's cool how medicine keeps making improvements."
Latest leap forward
MAGEC rods are the latest leap forward. With few exceptions, they are the first choice in treatment for children diagnosed with severe early-onset scoliosis at Seattle Children's and most other hospitals with growing rod programs. And kids like Carmen, provided they have at least two years of growth remaining, are getting MAGEC rods as replacements for conventional rods they originally received.
Surgeons perform the same surgery to attach MAGEC rods to the spine with hooks and screws as they do with conventional rods. However, with MAGEC rods they may not need to pick up their scalpel again until it's time to remove the rods when the child stops growing. The spine is then typically fused to keep it as straight as possible for the rest of the child's life.
To lengthen conventional rods, surgeons open up the child's back, loosen a screw with a special screwdriver, gently expand the telescoping rod and then tighten the screw and close the incision. With MAGEC rods, a magnet in the rod does the trick. The doctor holds the system's remote control against the child's back. Each click of the remote activates the magnet and rotates the screw to expand the rod one-third of a millimeter – about the width of a grain of sand. Rods are typically expanded three to seven millimeters at a time.
"A few kids say they feel some pain as we lengthen the rods, but many say they don't feel anything," says Dr. Wally Krengel, who leads the spine team at Seattle Children's. The lengthening, according to Carmen, "kind of feels like a massage."
Whatever it feels like, the MAGEC rods are a welcome relief from repeated surgeries – especially for kids with conditions that impose heavy health burdens on top of their scoliosis. Joycelyn Mendoza, 7, was born with severe developmental delays and can't walk or speak because of a rare chromosomal disorder that also causes scoliosis.
Joycelyn – who lives in the Eastern Washington town of Granger – is breathing better after getting MAGEC rods when she was 6 years old to help her chest and lungs develop. "We're very happy. The rods are helping a lot," says her dad, Selso Mendoza.
Joycelyn's dad can't imagine his challenged daughter facing the repeated surgeries required by conventional growing rods. "That would have been a lot for her along with everything else she has to deal with," he says. "The MAGEC rods are better for her and better for us."
A focus on lung function
Severe early-onset scoliosis is rare, so no single hospital treats enough patients to study the condition effectively on its own. As part of the Children's Spine Study Group, Seattle Children's teams with other top-tier children's hospitals around the country to find better ways to meet the challenges faced by children with severe early-onset scoliosis.
"Our research at Seattle Children's focuses on how scoliosis affects lung function. Restrictive lung disease is the primary threat to the health of a child with severe scoliosis, but the connection between the two needs to be better understood," White says.
White and Dr. Gregory Redding, who leads the Seattle Children's pulmonary team, are leading a multi-site study to help clarify the circumstances under which growing rods provide the best possible treatment for scoliosis patients with lung disease. "We specifically want to understand if the amount of lung disease a child already has when they get growing rods is related to how much their breathing improves with rods," White says. "That will give us a better sense of which children will derive enough benefit from rods to warrant putting them through the procedure."
White notes that MAGEC rod technology is still too new to document how much it improves the quality of a child's life when compared to conventional rods, but he only has to listen to the families he works with to know they appreciate the ease of treatment. "They're very happy," White says. "When I complete their first expansion, they look at me and say, 'You're done?'" Carmen's mom is grateful her daughter could switch to the MAGEC system. "Now we can focus on normal kid stuff and not worry about the next surgery," she says. "It's cool how medicine keeps making improvements."
MAGEC rods are a welcome relief from repeated surgeries.