Stories
Knowing How Care Today Affects a Child's Future
Published in Connection magazine, November 2013
Our pediatric experts are focused on how treatments today affect growing bodies in the future.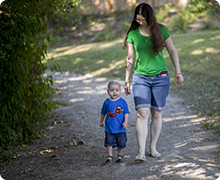 One third of U.S. hospitals have no pediatric specialists on call, and about 50% of emergency rooms care for fewer than 10 kids a day. It's easy to see how kids sometimes receive treatment better suited for adults.
"Problems arise when providers aren't used to seeing kids and use adult patients as their point of reference," says Dr. Chappie Conrad, part of the Orthopedics team at Seattle Children's. "Younger children can't describe their symptoms and are harder to examine, and clinicians can easily miss red flags that signal what care is required."
Case in point: A recent drill conducted in 35 emergency departments (EDs) in North Carolina found that nearly all failed to stabilize injured children properly, to treat kids with a life threatening drop in blood sugar correctly or to order proper IV fluids. A different study conducted nationally showed only 6% of EDs have the supplies they need to safely treat kids.
Children don't react to illness, injury, pain and medication in the same way as adults. They require – and deserve – care designed specifically for them and provided by people specially trained to understand and meet their needs.
National expertise
Liberty and Nathan Speidel were days away from celebrating their 10th wedding anniversary when they got a phone call that literally knocked the wind out of them. Their 2-year-old son Xander needed a bone marrow transplant.
As an infant, the boy was diagnosed with Shwachman-Diamond syndrome (SDS) – a relatively rare condition that decreases one's ability to digest food and produce blood cells. Now the Kansas City–based family faced a major decision and the Speidels wanted a second opinion. Their SDS support group (a Web-based network of families across the country) provided unanimous advice: call Dr. Akiko Shimamura at Seattle Children's.
"I called the phone number on Children's website for the SDS registry and within two hours, Dr. Shimamura called me back," recalls Liberty Speidel. "I was flabbergasted. I'd never even had a phone call from my own doctor and now I was having a 45-minute conversation with the national expert on SDS."
A chance for life
Shimamura and her colleague Dr. Lauri Burroughs reviewed Xander's records. They concurred that the toddler's bone marrow was no longer effectively producing blood cells and platelets. Even more concerning, Xander's marrow was starting to show changes connected to the development of leukemia. A transplant would correct his marrow function and stop the leukemia in its tracks.
Burroughs and Shimamura specialize in treating children who have non-cancerous blood diseases, such as marrow failure disorders, primary immune deficiencies and sickle cell disease. Bone marrow transplants are often the only known cure for kids with these conditions, but the organ damage and underlying infections caused by their illnesses make it difficult for them to tolerate the powerful drug and radiation conditioning used to prepare their bodies for transplant.
"We're developing safer, less intense conditioning regimens so more kids like Xander can undergo potentially lifesaving transplants and live healthy, productive lives," says Burroughs.
Burroughs is running the nation's first clinical trial for patients with noncancerous diseases using the new drug Treosulfan as part of the transplant conditioning regimen. Several European studies have shown decreased transplant-related mortality with Treosulfan – particularly important for medically fragile patients like Xander.
"My favorite part of the treatment is telling parents, 'you need to start saving for college.'"
Speidel agonized over whether to have Xander's bone marrow transplant in Kansas City near family, church and home, or to travel nearly 2,000 miles to Seattle, which had Shimamura, Burroughs and the clinical trial using Treosulfan. "Once we made the decision to go to Seattle, I felt so at peace about it," she remembers.
Xander and his mom came to Seattle in March 2013 to begin the conditioning regimen with Treosulfan prior to his bone marrow transplant in May. By mid-August, they were headed home with new bone marrow, a brand new immune system and the promise of a normal life span for Xander.
Although the clinical trial using Treosulfan is still underway, Burroughs notes that initial results are very promising.
"My favorite part of this treatment is telling parents, 'you need to start saving for college,'" she says.
Care for now and later
Doctors at the Oregon hospital where Jessica Stewart was born so doubted she would survive that they secretly asked her family's minister to prepare for her inevitable passing.
Jessica was born with OEIS complex, a severe birth defect in which the bladder and intestines develop on the outside of the body, the rectum is malformed and the spinal cord is tethered.
Being treated on the pediatric wing of an adult hospital for the first 10 years of her life was eye-popping for Jessica and her family. She witnessed violent outbursts in the ER, having an elderly person collapse in front of her from a heart attack at the lab, and being forcibly restrained for blood draws and other procedures.
After Jessica's mom met Dr. Richard Grady, a pediatric urologist here at Children's, she began to wonder if Seattle might be a better place for her daughter's ongoing care.
The difference was quickly apparent. "Before I came to Children's, doctors would say things like, 'I'm so excited to work with someone with your anatomy,'" muses Jessica, now 16. "At Children's, no one treats me like a science experiment."
Here, Jessica's team – all experts in the care of kids with complex pelvic anatomies – work together to make sure that she is healthy today and emotionally and physically primed for college, career and relationships.
"At Seattle Children's, no one treats me like a science experiment."
"All of the specialists on the Reconstructive Pelvic Medicine team – from general surgery, gastroenterology and gynecology to urology, adolescent medicine and radiology – love helping patients and families understand and navigate what can be very overwhelming medical issues," explains Dr. Jeff Avansino, a pediatric general surgeon.
"My doctors think about my future as much as I do," says Jessica, a budding singer and actress. "They were great at dealing with what I needed as a child, but they're also looking ahead to what I'll need as an adult. I feel really safe in their hands."
Pediatric Specialists Know Kids Best

Every year about 2,500 children come through our doors with fractures. The latest thinking on how best to care for them continues to evolve – and orthopedists at Seattle Children's are helping establish new best practices.
50 years ago, a child could spend a year in the hospital healing from a hip fracture. Today, minimally invasive surgical treatments take only a day; yet, for a child to regain a lifetime of normal function, factors such as age, family history of growth, the type of fracture and level of bone deformity must be considered before treatment ever begins.
"At every age and developmental stage, kids' bones are changing and it can take years of training to be able to assess what treatment approach will work best," says Dr. Chappie Conrad, head of the Orthopedics team at Children's.
2,500: Approximate number of fractures treated each year at Seattle Children's
For example, a simple elbow fracture – common among kids under 10 – can cut off blood supply to an adjacent artery. If the fracture is treated without repairing the artery, the oversight could damage the arm and lead to amputation.
"We treat lots of kids with fractures whose families have been to one, two and sometimes three other places before they come to us," says Conrad. "If I could tell parents anything, I'd say 'see us first.'"