Stories
Improving Treatment for Childhood Concussions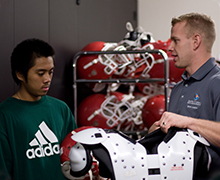 When Dr. Frederick Rivara started working in Seattle in the mid-1980s, he was struck by the number of children who came to the hospital with head injuries that should never have happened. Rivara saw kids who gashed their heads after falling off their bikes and children who sustained severe head injuries in car accidents. Almost none of those kids wore helmets or seatbelts. And even the best treatment couldn't save many patients from lifelong complications.
"Clinical care for head injuries can only go so far," Rivara says, "and I decided we needed to do research that made the case for prevention."
Rivara's landmark studies – including one that showed helmets could prevent 85% of head injuries stemming from bike accidents – played a key role in dramatically increasing helmet and seatbelt use. Now he and his colleagues are turning their attention to another challenge: understanding childhood concussions. Rivara will help guide Seattle Children's new Youth Concussion Research Program – made possible by a $5 million gift from the Satterberg Foundation – to investigate how concussions impact children's development and look for ways to improve diagnosis and treatment.
"We constantly see headlines about the dangers of concussions in professional athletes and adults," says Rivara, who is chief of general pediatrics at Seattle Children's and the University of Washington and a principal investigator in the Center for Child Health, Behavior and Development at Seattle Children's Research Institute. "But we know almost nothing about concussions in kids."
Investigating the Mysteries of Youth Concussions
Somewhere between 85% and 90% of kids who suffer concussions will see their symptoms go away within a couple of weeks. But the other 10% to 15% will experience headaches, memory problems or other symptoms for much longer. No one understands why these children are affected differently, how to best treat them or how long their brains are vulnerable to another concussion.
The new research initiative will investigate these questions and will be one of the nation's largest pediatric concussion research programs. It will be closely linked with the Concussion Program, a Seattle Children's–UW Medicine partnership that was launched to provide care for athletes with concussions.
Rivara and his colleagues are planning studies that will collect data on young concussion patients' symptoms, chronicle their treatment and use brain scans to see how their brains change and recover. This could help researchers understand why concussions' impact varies, and could lead to studies of new ways to improve prevention and treatment.
The research team is also partnering with Seattle-based X2 Biosystems, which developed a tiny sensor that can be placed behind an athlete's ear to measure the force of head impacts. Athletes playing almost any sport, from football to baseball to soccer, can wear the sensor. Rivara and his colleagues plan to use the sensor data to help determine what type and magnitude of forces are most likely to trigger concussions in younger athletes.
"It's an extraordinary opportunity to investigate some of the fundamental questions about children and concussions," he says.
Evaluating Concussion Laws
Thanks to the efforts of Dr. Stan Herring, the Concussion Program's co-director, Washington was the first state to enact a concussion law. The 2009 law requires young athletes who show concussion symptoms to be evaluated by a healthcare provider before they can return to play. It also requires concussion education for coaches, athletes and parents.
Every other state has followed suit and passed their own concussion laws. Their requirements vary and Rivara is involved in a new study with Seattle Children's Dr. Sara Chrisman and UW epidemiologist Dr. Ali Rowhani that looks at a sampling of those laws to see which ones are most effective. The study is funded by the Centers for Disease Control and Prevention and could lead to recommendations on how to make the laws stronger.
It's the latest step in Rivara's decades-old push to save children from head injuries. About 70% of U.S. kids wear bicycle helmets today, compared to just 2% when he started his research.
"That's really gratifying because it means more kids are growing up without head trauma that interferes with their development," he says. "But, as we're seeing with concussions, there's a long way to go."
Learn More
To learn more about Rivara's work or to take a tour of Seattle Children's Research Institute, please contact Mandy Hanousek at 206-987-0151 or by email.