Stories
Improving Health for All
Seattle Children's focuses on broadening the diversity of people who participate in clinical and community-based research to improve health among the underserved.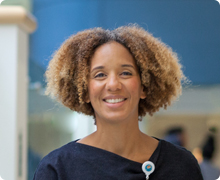 Dr. Tumaini Coker joined Seattle Children's with an eye on bridging gaps in health equity so every child can live their most fulfilling life.
With an eye toward bridging gaps in health equity, Seattle Children's accelerated efforts in 2017 to make participating in research easier and more accessible for children and families from traditionally underserved communities.
"We need to find ways to get families from diverse populations to participate in research so the interventions are relevant to people from a variety of ages, socio-economic backgrounds and ethnicities," says Dr. Tumaini Coker, a pediatrician and researcher who is the founding director of the Health Equity Research Program at Seattle Children's Center for Diversity and Health Equity.
NIH spurs focus on underrepresented populations
The National Institutes of Health (NIH) galvanized attention to this issue with a provision that requires applicants to its Clinical and Translational Science Award Program (CTSA) to identify strategies for integrating special populations (ISP) into research studies. CTSA funding is aimed at improving the process of turning research observations into interventions that enhance people's health. Currently, the NIH funds more than 60 research hubs across the U.S. through the CTSA program, including the University of Washington–based Institute of Translational Health Sciences (ITHS), which counts Seattle Children's, UW Medicine and Fred Hutchinson Cancer Center as core members.
The ISP provision acknowledges an uncomfortable truth: Children; older adults; people who are racially and ethnically diverse; and those with lower incomes are poorly represented in clinical and community-based research throughout the United States. Study enrollment often fails to match the demographics of the region in which it is conducted. In some cases, the enrollees in research studies about a specific health issue don't match the demographics of those primarily afflicted, thus the findings (and interventions developed) aren't necessarily applicable.
"Seattle Children's and ITHS are working to build a strong connection in the work we are doing to integrate diverse populations into research to address health equity," says Dr. Brian Saelens, a Seattle Children's community health researcher who co-directs ITHS's work on ISP with Coker. "We are excited to partner on a variety of initiatives."
Repairing relationships, creating infrastructure
Building relationships and renewing trust with traditionally underserved populations is a key building block to expanding participation in clinical and community-based research. Historically, there are too many instances of minority and underserved communities being treated unethically by research institutions. This legacy runs the gamut from the egregious (such as the Tuskegee Syphilis Study) to the dismissive (like not sharing findings or credit at a study's close or fairly compensating community partners).
Last year, Seattle Children's hosted listening sessions with representatives from underserved communities and community-based organizations in the Puget Sound area to better understand their past experiences with research and establish priorities for a new path.
"The discussions were very collaborative," recalls Kelly Martin, program coordinator. "People were interested in being part of this conversation, sharing their experiences, and were also willing to move forward."
Insights gleaned from these meetings formed the priorities for a community advisory council that will provide a venue for ongoing collaboration and shifting the way we interact with underserved communities to more truly partner in research. Dr. Maxine Hayes, the former Washington state health officer, chairs the council.
"The council provides a forum where communities can elevate their needs, provide a link to researchers who can address these needs, and help ensure that the research we do reflects the issues identified by the community," says Coker.
Removing barriers to participation
Overcoming barriers that limit people of diverse backgrounds from participating in research studies is a priority focus. These barriers can include lack of transportation; cultural factors and beliefs; or limited English proficiency.
The program makes small grants that fund translation and interpretation services for research projects. These small grants make it possible to extend participation to those who have limited English proficiency. Other initiatives in 2017 include:
Changing how incentives are paid to those participating in studies that focus on underserved populations
Working with the ITHS-ISP to survey researchers from the core ITHS institutions about the barriers they face in enrolling diverse participants
Conducting a data project examining whether the demographics of those participating in research matches the demographics of the community
In addition, Seattle Children's Research Institute is funding a new grant (through the Center for Diversity and Health Equity) for new and junior investigators who intend to build research careers focused on community-engaged health equity research.
"Our goal is to strengthen efforts to make sure all children achieve the best possible outcomes regardless of who they are, where they are from, or their family's financial position," says Coker.
"We need to find ways to get families from diverse populations to participate in research so the interventions are relevant."
Published in the Academic Annual Report, March 2017.