Stories
Dietary Therapy for IBD
New research at Seattle Children's demonstrates that the Specific Carbohydrate Diet can induce clinical remission in ulcerative colitis and Crohn's disease.
Recent research by Seattle Children's IBD Center shows that a rigorous nutrition plan can induce clinical remission in children with inflammatory bowel disease (IBD). Known as the Specific Carbohydrate Diet (SCD), the therapy was developed in the early 20th century to treat celiac disease. It emphasizes natural, nutrient-dense foods and excludes simple sugars, grains, most dairy products, and all food additives and preservatives.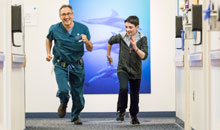 These new findings, published in the Journal of Clinical Gastroenterology, have the potential to shift the paradigm for IBD treatment, according to the study's lead author, Dr. David Suskind. It's the first prospective study to show that the SCD alone can induce clinical remission and biochemical improvement for pediatric patients with active Crohn's disease or ulcerative colitis. At the end of the 12-week study, eight out of the 10 patients who completed the study were in clinical remission with concomitant improvement/normalization of inflammatory markers.
Parents push for options
An estimated 1.3 million individuals suffer from IBD in the United States; approximately one-quarter of patients with IBD are diagnosed before age 21. Currently, standard treatment relies almost exclusively on immunosuppressive medications and corticosteroids.
While the medical consensus has historically held that diet doesn't affect IBD, families frustrated with the significant and lasting side-effects of standard medication-based therapies have experimented with nutritional therapies for their children with the disease.
Suskind was initially skeptical when, in 2012, a patient's parents said they were using the SCD instead of medication and insisted it was working. "So we ran the child's labs, and they were completely normal. That was pretty eye-opening."
Suskind and his colleagues followed up with a retrospective study of seven other patients using the diet. Their labs all showed significant improvement while on the SCD. "That piqued our interest," says Suskind. "We've been rigorously studying the SCD ever since. With this prospective study, now we have evidence that diet does have an impact on IBD, a strong impact."
"Now we know that diet does have an impact on IBD, a strong impact. It works, and now there's evidence."
– Dr. David Suskind
Beyond "feeling better"
A strict version of the SCD appears to change the fecal microbiome, modulating harmful bacteria and leading to mucosal healing in some, but not all, patients. However, at this point, it's not clear which diet modifications make a difference.
"The role of the diet on its own clearly merits more study," says Dr. Ghassan Wahbeh, who directs the IBD Center. "We're working now to answer a whole host of questions, including which diet modifications make a difference, and whether 'deep healing' of the intestinal mucosa is possible with the SCD over the long run."
The center's many SCD-related studies include a diet-blind trial for patients with active Crohn's disease. Twenty-one participants will follow one of three versions of the SCD for 12 weeks. A chef with expertise in the SCD prepares all meals; families are given a list of "legal" snacks. One group will follow the standard SCD; another will be on the SCD plus rice and oats; and a third group will follow a much looser version. Another study will follow patients with ulcerative colitis on a low–animal protein version of the SCD.
Papers pending publication address the nutritional adequacy of the SCD and the social impacts on the child and family of making such a significant change in diet.
SCD as primary therapy
Some IBD centers offer nutrition therapy in the form of formula-based exclusive enteral nutrition (EEN), but Seattle Children's is one of the only IBD centers in the U.S. to offer the SCD as a primary therapy for all families who want to try dietary options instead of medication. Currently, 5% to 10% of the IBD Center's patients are on the SCD, either as a primary or augmentative therapy, and all of the center's families are encouraged and supported to eat more healthily by a dietitian as well as their gastroenterologist.
"Our aim is to learn as much as we can about nutritional therapy," says Suskind, "but also to act on the knowledge we have. SCD doesn't work for everyone – no therapy works for everyone – but in some cases this dietary therapy is more effective than medication like Remicade or methotrexate. It's another tool in our toolbox."
Watch the SCDelicious Recipe Video Series
Published in the Academic Annual Report, March 2016