Stories
Curing Hepatitis C in Kids
Dr. Karen Murray leads the charge to wipe out the virus by bringing two highly effective adult drugs to infected children.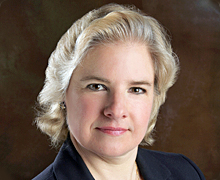 Research by Dr. Karen Murray is revolutionizing the treatment of hepatitis C for kids and teens.
Research at Seattle Children's led by hepatologist Dr. Karen Murray is revolutionizing the treatment of hepatitis C in children and teens.
Murray co-led a multisite clinical trial that showed a new antiviral drug cured 99% of participants in a study of children ages 6 to 11. A previous trial, in which Murray was the principal investigator, showed a 98% cure rate for adolescents ages 12 to 17 given the same drug. A second antiviral drug studied in that trial produced cure rates of 97% to 100%.
"For the first time, the words cure and hepatitis C are being used in the same sentence," Murray says.
The two antiviral drugs, Harvoni (ledipasvir and sofosbuvir) and Sovaldi (sofosbuvir), were originally developed for adults by Gilead Sciences. Each drug treats different hepatitis C genotypes.
Murray presented the findings for the use of Harvoni in adolescents ages 12 to 17 at the World Congress of Pediatric Gastroenterology, Hepatology and Nutrition in Montreal in 2016. At the 2017 meeting of the European Association for the Study of the Liver in Amsterdam, she presented the research results for children ages 6 to 11.
Read about Talon, who participated in the Harvoni trial and is now hepatitis-free.
"For the first time, the words 'cure' and 'hepatitis C' are being used in the same sentence."
A direct approach
Hepatitis C is a blood-borne virus that causes inflammation of the liver that can, over time, lead to liver failure, cancer and death. Harvoni and Sovaldi stamp out hepatitis C by acting directly on the virus to stop it from replicating.
This new class of drug is dramatically more effective than standard interferon therapy, which acts indirectly through the immune system, requires months of treatment and sometimes causes serious side effects such as flu-like symptoms and low white blood cell and platelet counts, Murray says.
Accelerating approval
Almost as remarkable as the efficacy of Harvoni and Sovaldi is how swiftly their developer (Gilead Sciences) began working with hepatologists like Murray to get the drugs approved for children. After earning FDA approval for adult use of Sovaldi and Harvoni respectively in 2013 and 2014, Gilead earned approval for their use in children 12 to 17 years old in 2017.
That's a big change from historic norms. "Drug companies typically wait years and years to begin pediatric trials because they want a long track record of success in adults first," Murray says.
The drug industry also moves slowly because the market for pediatric therapies is small compared to the markets for adult therapies, and recruiting trial participants is more challenging. The long delays mean doctors must weigh the risk/reward of using a drug that is successful in adults but has not been studied in children.
"Kudos to Gilead. They began thinking about pediatric trials for Harvoni as soon as the drug showed promise in adults," Murray says. "We're excited to see drug companies responding faster to the needs of children."
Gilead asked Murray to play a leading role in the Harvoni and Sovaldi trials because she has been studying hepatitis C and other liver diseases for 20 years. Seattle Children's treats many children with liver disease and is a frequent site for clinical trials. The hospital enrolled patients in both the 6 to 11 and 12 to 17 age group trials with Murray as site leader.
Murray currently is co-leading another multisite trial for Harvoni involving children 3 to 6. If successful, Gilead is expected to seek FDA approval for Harvoni in children 3 to 6 and 6 to 11 at the same time, Murray says.
Needles spread virus
Most of the 2.7 million to 3.9 million people with hepatitis C in the United States contracted the virus by sharing needles and other drug-injecting equipment.
However, less than 20% of the estimated 23,000 to 46,000 children with hepatitis C in the U.S. got it directly through drug use. Most children with hepatitis C were infected while being carried during pregnancy by their infected mother.
People often live with hepatitis C for many years without detection because screening is not routine and the damage to the liver can progress so slowly that symptoms don't appear for decades.
A puzzling twist to hepatitis C is that patients who get the virus as children tend to sustain less liver damage over time than those who are infected as adults – an enigma that remains unexplained, Murray notes.
Psychosocial risks
While children may dodge the worst of the physical toll of hepatitis C, the virus can take a psychological toll. Research has found reduced executive function – planning, organizing and behavior control – in one of five infected kids.
The link between hepatitis C and drug use, and misunderstanding by much of the public about the disease, can also isolate children socially even though the chance of transmission through normal interaction is exceedingly low.
"The last thing families of children with hepatitis C want is for their child to be treated differently by their peers, teachers or anyone else," Murray says. "With these new, more effective drugs, previously infected people will be able to say with certainty they don't have hepatitis C – because they don't."
Published in the Academic Annual Report, March 2017.