Stories
Bold Vision for the Future
Our next great era will leverage the power of our top-notch care and research to find new cures and help keep kids healthier.
Published in Connection magazine, Fall 2016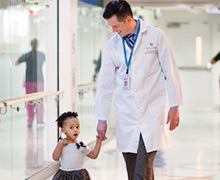 Building on more than 100 years of life-enhancing clinical care and our pioneering research efforts, Seattle Children's is entering an era that will be defined by broadening the ways we will care for kids and by bringing truly innovative treatments to market.
"We're not changing who we are. We still want to be the best place for kids to come if they get sick," says Dr. Jeff Sperring, Seattle Children's chief executive officer. "But how can we reach beyond that? How can we use our new era of cure? How do we reach out into the community to help children stay well? How can we better understand which kids may develop longterm illness because of geography or socioeconomic status? And, how do we intervene before they ever get sick?"
This line of thought led to a new strategic roadmap that will enable Seattle Children's to care for the patients and families who seek our services while adding a new emphasis on improving pediatric health and wellness in the larger community.
"The support of our community is what enables us to imagine this future."
New mission and vision
This thinking also prompted Seattle Children's Hospital Board of Trustees to revise our mission and vision to reflect our bold, broader focus while remaining true to our founding purpose and promise.
"The goal of Seattle Children's – to care for children to the best of our ability – is the same as the day Anna Clise founded the hospital," says Judy Holder, former chair and current member of the board of trustees. "How we articulate our mission and vision evolves over time to reflect the critical needs of the day."
Poised for historic impact
With new therapies like immunotherapy being developed to treat cancer and other diseases, we are poised to make a historic impact on pediatric health. Though Sperring and Holder acknowledge that our aspirations are ambitious and far-reaching, they are confident that the new strategic plan is within our grasp. Growth – of our facilities (on the main campus, at the research institute and the community clinics) and partnerships with like-minded organizations in the community – are key to making these bold goals tomorrow's reality.
"There are pediatric diseases I studied in medical school that I assumed would always require treatment. My hope is to put some of these diseases in the medical history books right next to polio," says Sperring. "I want the image of a child with a bald head from cancer treatment to be next to the photo of a child in an iron lung. I want people to look back and say 'I can't imagine that kids ever had to deal with that.' To me, that's what Seattle Children's next era is all about."
Sperring credits the support of our generous community as the only reason we are able to think this boldly.
"As our national reputation grows and our research institute reaches new heights, I think about those who propelled us along the way. No one should look at what they have invested in Seattle Children's without seeing the incredible difference they have made – and can continue to make – in the lives of kids."