Stories
Better Care for Kids and Teens Questioning Their Gender Identity
Our new Gender Clinic is working to eliminate barriers to care for a population of kids who are at risk and underserved.
Published in Connection magazine, Spring 2017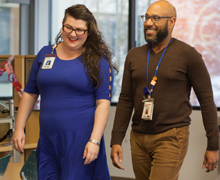 Dr. David Breland with Lara Hayden, the clinic's patient care navigator.
What would you do if you knew a group of kids was at high risk for depression, anxiety and suicide and you knew you could help?
After just a few short hours of shadowing caregivers at a gay-friendly health clinic in San Francisco during his medical training, Dr. David Breland began to see the unmet health needs among the transgender community – people whose gender identity differs from their biological sex.
"It's hard to go through life feeling like you don't belong in your body. These folks face discrimination, victimization and social isolation – and have significantly higher rates of mental health problems," notes Breland. "Many in the medical community don't know how to relate to them or help them sort through their needs and their options."
Parents propel new clinic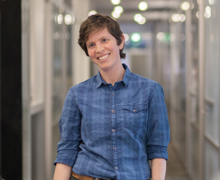 Providing training to staff and providers at Seattle Children's on the unique aspects of caring for transgender kids and teens is part of Julia Crouch's work.
Breland began seeing teens who didn't identify with their biological sex as part of his adolescent medicine practice when he joined Seattle Children's in 2009.
But parents and patients needed more. They felt the care lacked coordination among the various healthcare providers a transgender child might need to see, which can include mental health therapists, medical specialists and endocrinologists.
"Parents were bringing their kids to Seattle Children's thinking we were the Holy Grail of care for kids in this region and were disappointed that we didn't have a thoughtful,organized approach to addressing their children's needs," says Breland.
Their concerns prompted a research study by Breland and Julia Crouch that defined the gaps and barriers to care. The findings ultimately led Seattle Children's to create the Gender Clinic, a coordinated clinic for children, adolescents and young adults who don't conform to traditional gender roles or whose gender identity is different from their sex at birth. It is one of only five such clinics in the nation and the only one in the Pacific Northwest.
Affirming the individual
Some young children will experiment with gender roles and ultimately identify with their birth gender. But when transgender identity persists into adolescence, it is usually there to stay. It's difficult to pin down the percentage of people in the community who are transgender and more data is needed, but it's estimated that 1 in 200 people (or 0.5% of the population) identify as transgender.
Treatment at the Gender Clinic is tailored to each individual and family, and considers one's age, stage of puberty, family support systems and any underlying health issues. The goal is to fully accept each individual as they are and develop an integrated care plan based on their needs.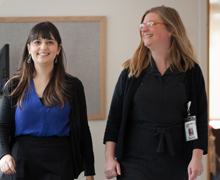 Endocrinologists Drs. Parisa Salehi (left) and Sara DiVall enjoy being part of a multidisciplinary team that is working to fill an unmet need in the community.
Many of the 200-plus patients and families who contacted the clinic in its first few months wanted information so they could learn more on their own. Others were ready for an in-depth evaluation to explore their gender identity and learn about treatment options. Some of the adolescents had been evaluated elsewhere in the community and were ready to begin treatment.
Kids who are at the beginning of puberty may start puberty blockers, which will temporarily delay their physical development and give them – and their families – more time to gather information, understand their needs and make informed choices.
"Some kids realize they can affirm themselves by changing their hair, their dress or their name. Sometimes the child is ready to move forward, but their parents have questions and need time to deal with their own emotions about their child's situation," says Breland.
The Endocrine Society's recommended age for starting cross-sex hormone treatment, which enables the body to permanently develop sex characteristics that match the individual's gender identity, is around 16, but it can be started younger. Surgical treatment is not offered at Seattle Children's.
Partnering with PHPDA
A grant from the Pacific Hospital Preservation and Development Authority (PHDPA) – a local nonprofit dedicated to improving health outcomes and access to care for vulnerable and underserved communities – helped get the clinic up and running.
"We always ask 'who is being left out of the American healthcare system and how can our funds improve access to the services they need,'" says Jeff Natter, PHPDA's executive director. "We hope the clinic helps trans boys and trans girls realize a sense of wholeness in their identity – and maybe moves the societal dial just a little further along in terms of understanding the spectrum of gender identity."