Stories
Better Care for Teens with Depression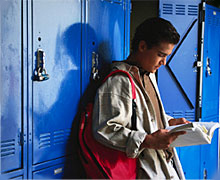 Dr. Laura Richardson is investigating whether an integrative approach to mental healthcare – called collaborative care – can help teens with depression get better care, faster.
Collaborative care allows patients with depression and other mental health issues to access medication and basic therapy without leaving their primary care doctor's practice. This makes it easier for patients to get the care they need, and helps primary care physicians keep track of whether a patient's condition is improving. While this approach is proven to improve outcomes for adults, Richardson is leading one of the first studies on whether it also works for adolescents.
"I am contacted every few weeks by providers who want to know if this model could help their patients," Richardson says. "Our goal is to be able to give them some concrete answers."
Right now, primary care physicians usually refer teens with depression to a counselor or other mental health specialist. But only about half of those patients will make an appointment with that provider, and less than a third of patients will see a mental health provider more than once. One reason is that adolescents might simply be too depressed to follow through.
"These patients might be failing in school, fighting with their parents and not wanting to do anything besides stay in bed," Richardson says. "It's very difficult to break through all that to go talk to a stranger about their problems."
Making matters worse, primary care doctors may not know if their patient ever pursued mental healthcare, because privacy laws and separate mental health and medical systems make communication between providers difficult, if not absent. This can leave teens floundering at a time when they need help.
Richardson's study, which enrolled 101 participants, works around this by using a care manager – who works within the primary care physician's practice – to oversee patients diagnosed with depression. The care manager provides education about treatment options, helps the patient select a treatment and then provides brief therapy sessions or works with the physician to choose a medication. The care manager also regularly checks in with patients to see if they're getting better, and meets each week with a psychiatrist to evaluate how patients are responding to care.
"If someone isn't improving after four to six weeks, we can respond quickly and change their treatment," Richardson says.
Richardson's team expects to have results from the study in mid-2013. If the researchers confirm the results of their pilot study that found that 70% of participants who participated in collaborative care had a remission of their symptoms, the study could be a key step toward making this the standard approach for adolescents nationwide.
Looking ahead, Richardson plans to continue breaking down the barriers to collaborative care. This includes developing training providers about how to use the collaborative approach, investigating the costs of care management and whether it would be cost-effective for insurers to cover care managers' time, and exploring the use of new technologies to aid primary care providers with some of the care management activities like education and patient monitoring.
"Initially, providing collaborative care is more expensive, but for adults it brings overall costs down in the second year because the patients aren't depressed anymore," Richardson says. "That means they're healthier and need less medical care."