Office for Teaching, Education and Research
Research and Training Opportunities
Current Available Research Opportunities
Opportunities in labs and research groups at the research institute come up on a rolling basis throughout the year. The following are opportunities that are currently available, but new opportunities are always emerging.
We encourage you to apply for any of the opportunities below, but we also encourage you to apply in general so that we can add you to our quarterly pool of candidates. We do our best to match applications with new opportunities as they arise as much as possible, but we do distribute the applicant pools to PIs on a quarterly basis.
If you choose to apply for one of the applications below, please name the study on your application, so we can direct your application to the sponsor or PI for the opportunity.
The following research opportunities are available. If these opportunities do not match your interests or experience, please still submit an application. If an opportunity matching your research interests and qualifications arises, we will contact you.
he Center for Child Health, Behavior and Development (CHBD) is looking for an intern to assist with the 2nd year of their Physical Activity study (PLAY Study).

Interns should have experience and feel comfortable working in a wide variety of pediatric populations. The student should also have interest in public health/physical activity/obesity prevention and have hope to gain clinical research experience working with children to further their education.

Minimum requirements

Must be a currently enrolled undergraduate or higher

Preferred skills

Graphic Design – creating effective designs to display and share our intervention materials and our results
Communications – motivating behavior change
Computer Science – automate/make more efficient the technology parts of our intervention

Time commitment

Students will aid with daily study tasks and help with larger projects for 2 days per week between September 5, 2018–March 5, 2019.

The Concussion and Injury Surveillance (CIS) Study works with a local junior football league to research and understand the outcomes of concussion among youth. We track incidence of concussion among youth athletes and also seek to understand the natural course of concussion recovery, both recovery time and process.

The CIS Study will launch recruitment just prior to the start of the junior football league season. We seek energetic and enthusiastic volunteers to assist with:

On-site recruitment and data collection: Attending football practices and league events where potential study participants will be. The student will recruit participants into the study and collect baseline data (via hardcopy papers and also iPad/tablet).
Data entry and management: The student will return all baseline data to the research study team office (located within the West 8th Building in downtown Seattle) and complete data entry weekly. The student will have the opportunity to contribute to data collection and management, as well as design decisions for the current year and future years.

Minimum requirements

Must be a current or recent undergraduate or higher, with preference given to students who have a degree or experience in public health, health sciences and/or medicine. Must be able to travel to locations within the region (greater Seattle area) and have reliable and dependable transportation. Preference given to students with their own personal car.

Preferred skills

Excellent communicator – both interpersonal and written
Detail-oriented with experience or interest in learning more about pediatric concussion data (entry and management)
Punctual and self-motivated to manage time on a research project

Time commitment

Volunteers are requested to commit to a minimum of 10–15 hours per week from May 1–September 15, 2018. This is an unpaid position, but student credit may be available.

Volunteers will work with a member of the research team to find activities that will give them a range of experience and fit with their goals and current level of experience. Assignments may include data screening, coding and data entry into existing database systems; recruitment assistance; field data collection of environmental and nutritional data; office administration; and literature reviews. Volunteers may also assist with family-based behavioral treatment by preparing materials for weekly groups and other survey-based data collection.

Volunteers may also assist case managers in greeting and checking-in participants for weekly groups. Opportunities for fieldwork may also be available, but are dependent on the student's access to transportation.

The goal of this position is to provide volunteers with hands-on experience in a research setting with close oversight by an experienced research team.

Minimum requirements

Undergraduates or higher who have taken Introduction to Psychology or Sociology, and students with some experience with surveys, testing and data entry.

Preferred skills

Experience working with standardized measures
Experience working with Access and/or SPSS or other databases
Basic computer and internet management skills

Time commitment

Volunteers are requested to commit to a minimum of 10 hours per week for at least six months. Available hours include days, afternoons and evenings during the week. Students enrolled at the University of Washington will be eligible for a maximum of three credits per quarter in PEDS 499.

Volunteers will work with Seattle Children's Innovative Technologies Lab (SCITL), which is run by Dr. Fred Shic and dedicated to developing everyday technologies for improving the lives of children with autism spectrum disorders (ASD) and other developmental disabilities. SCITL also develops innovative technologies including mobile apps, video games, robots, smart toys and virtual reality to enable next-generation sensing and therapeutics. Projects within the internship will vary depending on the interest area and level of expertise of the volunteer. Additional opportunities to sit in on research lab meetings and science talks are available to expand the volunteer's understanding of translational technologies and developmental psychology.

Minimum requirements

Must be currently enrolled in a communications or design program at an accredited institution. Must be able to independently plan, design and execute a media presence plan, including (depending on interest and experience) website creation, logo refinement, social media outreach, stimulus design/creation to be used in research and/or creation of materials for families such as small story books or coloring book–type materials.

Preferred skills

Preference for applicants who have experience in coding in Unity for app creation/refinement.

Time commitment

Start dates are flexible, especially if applicant does not need school credit. Applicants must be able to commit to at least three months, but depending on capabilities and interest, position may be extended to three quarters. School credit is available, if needed. Volunteers must work a minimum of four to eight hours per week. Ideal start date: March–June 2018.
Careers and Postdoctoral Fellowships
Our people are some of the greatest resources we have in our mission to provide hope, care and cures. Postdoctoral fellows are found throughout Seattle Children's Research Institute, and the research institute is a great place to continue your postdoctoral training and research. The research institute is a sustaining member of the National Postdoctoral Association, with our postdocs receiving the benefits of affiliate membership. For more information on postdoctoral fellowships in our eight research centers, as well as other staff opportunities, please visit our careers page.
Graduate Student Opportunities
Seattle Children's Research Institute is home to many faculty members from multiple departments at the University of Washington. Graduate students in affiliated programs may wish to conduct graduate research at the research institute. Please contact individual departments or email us for more specific details. For more information on our research centers and programs, and their faculty, please visit the research institute home page. If you are a graduate student arranging a rotation with a specific principal investigator at the research institute, please submit a student intake form and include the PI, quarter in which you will start, and "rotation" in the "specific position" field.
Undergraduate Opportunities
Our labs have opportunities for college research interns throughout the year. Depending on experience, roles may include administrative support for studies, data analysis, shadowing study visits, eligibility screening, running cultures and more. To be considered, please submit the student intake form including your areas of interest within the research institute.
High School Internships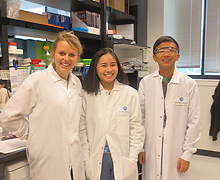 STEM internships
Hosted by the Science Education Department
Seattle Children's Science Education Department is sponsoring a 14-day summer STEM (science, technology, engineering and math) internship at the research institute in downtown Seattle. High school students from underrepresented groups in STEM will have the opportunity to engage in authentic research, work with leading research scientists, learn essential laboratory skills, and take part in workshops on ethics, college readiness, and career exploration. The internship is designed to provide students with a solid foundation for a research career in STEM.
Please note that this internship is best suited for underrepresented students in STEM interested in laboratory research at Seattle Children's Research Institute. Applications open Thursday, March 1, 2018, and are due Saturday, March 31, 2018. You will be notified of your application status in late April 2018. For more information and to apply, visit the Science Education Department page.
Other high school research opportunities
Many of our research labs have opportunities for high school interns and students throughout the year, with some open to students under 18. Roles may include administrative support for studies, assisting with communication to families, creating outreach materials or contributing in the lab. These roles give students a strong understanding of the many critical parts that go into a research study – and the many career opportunities that exist within research. To be considered, please submit the student intake form on our application page, including your areas of interest within the research institute.
Youth Career Exploration and Field Trips
The Science Education Department partners with area schools to enhance science education throughout Washington, including career exploration tours and fields trips to Seattle Children's Research Institute, as well as the mobile Science Adventure Lab. If you are a teacher, school administrator, parent, or student interested in innovative, hands-on science curriculum for your students, please contact the Science Education Department.