Office for Teaching, Education and Research
Research and Training Opportunities
Current Available Research Opportunities
Opportunities in labs and research groups at the research institute come up on a rolling basis throughout the year. The following are opportunities that are currently available, but new opportunities are always emerging.
We encourage you to apply for any of the opportunities below, but we also encourage you to apply in general so that we can add you to our quarterly pool of candidates. We do our best to match applications with new opportunities as they arise as much as possible, but we do distribute the applicant pools to PIs on a quarterly basis.
If you choose to apply for one of the applications below, please name the study on your application, so we can direct your application to the sponsor or PI for the opportunity.
The following research opportunities are available. If these opportunities do not match your interests or experience, please still submit an application. If an opportunity matching your research interests and qualifications arises, we will contact you.
Expand the descriptions below to learn more about open research opportunities at Seattle Children's Research Institute.
The Center for Integrative Brain Research (CIBR) is looking for a student volunteer to explore neurotoxicity associated with chimeric antigen receptor (CAR) T-cell treatments.

CAR T cells, which are engineered T cells that target specific proteins expressed by cancerous cells, are developing immunotherapy treatment options for patients with certain forms of cancer such as leukemia and lymphoma. Although this treament has been shown to be effective in blood cancers, a percentage of patients do develop a spectrum of neurotoxic symptoms after being given CAR T-cell treaments. It is unclear if the cause of this neurotoxicity is due ot the CAR T cells themselves or the elevateed cyokine release that often follows CAR T-cell treatments. We are developing a mouse model that aims to understand the root cause of this neurotoxicity using various research methods including behavioral tests and histology. Role is primarily focused on data collection and analysis.

Role includes:

Mouse handling and dissection
Running behavioral experiments
Performing histology, including brain slicing and immunohistochemistry
Flow cytometry

Minimum requirements

Must be a currently enrolled University of Washington graduate or medical student, and will be doing the work "for credit."

Preferred skills

Qualified candidates should have the following:

Knowledge of general biology, biochemistry, molecular biology and/or neurobiology
Good laboratory techniques and record keeping skills
Good organization skills, including attention to detail
Able to work well in a team as well as independently
Data entry and word processing experience
Experience in any of the techniquest listed above, but training will be provided
Experience in analyzing data usings spreadsheets and statistical analysis

Time commitment

Students will commit to at least 10 hours per week for an undertermined length. Students must be able to receive course credit for this opportunity.

The Center for Developmental Biology and Regenerative Medicine (CDBRM) invites applications for a research opportunity in Dr. Vishal Nigam's lab. Nigam is a phsyician–scientist who cares for children born with cardiac defects. His lab studies molecular mechanisms for normal and pathological cardiac development, as well as complications in pediatric cardiopulmonary bypass surgeris.

Student researchers will get various hands-on laboratory experience with guidance and close oversight by an experienced member of the research team. Assignments may include cell culture, gene/protein expression analysis, literature review and data analysis. Volunteers are expected to help with some logistics work, maintenance and organization of the lab. Previous students in the lab have been included as co-authors on publications from the lab.

Minimum requirements

Must be a current undergraduate student or higher. Studnet need to have completed a biology, biochemistry and/or physiology course.

Educational institution limitations may apply, and preference will be given to students utilizing this opportunity for course credit.

Time commitment

Students are requested to commit up to 10–20 hours per week.

The Center for Child Health, Behavior and Development (CHBD) seeks a student researcer to work in Seattle Children's Innovative Technologies Lab (SCITL, pronounced "skittle"). The Washington Study of Outcomes, Neural Development and Early Risk (WONDER) researches the development of the social brain over the first three years of life with an ultimate goal of studying developmental trajectories of infants born at risk for developmental delays. The longitudinal project sees infants at 6, 12, 24 and 36 months old and uses eye tracking and brain imaging technologies (EEG and fNIRS) as well as developmental assessments to map early brain development. A core part of this volunteer opportunity will be hands-on involvement with participants during their study visits. Student volunteers will be trained to assist staff during experimental sessions with families and they will observe and film standardized developmental assessments. Other tasks include essential administrative work such as data entry, data management and visit preparation and tracking.

Minimum requirements

Reliable transport to downtown Seattle and punctuality

Three consecutive quarter minimum (including summer quarters) and must be taking course credit

Detail-oriented, reliable

Ideally will have previous experience with infants or young children

Experience or interest in experience with children with special needs is a plus

Time commitment

Priority given to students who are available during the morning/early afternoon on Tuesdays, Wednesdays and/or Thursdays.

Minimum of 6 hours per week, and a three-quarter commitment (for credit).
Careers and Postdoctoral Fellowships
Our people are some of the greatest resources we have in our mission to provide hope, care and cures. Postdoctoral fellows are found throughout Seattle Children's Research Institute, and the research institute is a great place to continue your postdoctoral training and research.
Seattle Children's offers a unique training program, called the Postdoc Milestone Program, which is tailored to each indidividual, so you can make the most of your time as a postdoctoral fellow. Additionally, the research institute is a sustaining member of the National Postdoctoral Association, with our postdocs receiving the benefits of affiliate membership.
To search for current postdoctoral fellowship openings, please visit our careers page.
Graduate Student Opportunities
Seattle Children's Research Institute is home to many faculty members from multiple departments at the University of Washington. Graduate students in affiliated programs may wish to conduct graduate research at the research institute. Please contact individual departments for more specific details. For more information on our research centers and programs, and their faculty, please visit the research institute home page. If you are a graduate student arranging a rotation with a specific principal investigator at the research institute, please submit an application.
Undergraduate Opportunities
Our labs have opportunities for college research interns throughout the year. Depending on experience, roles may include administrative support for studies, data analysis, shadowing study visits, eligibility screening, running cultures and more. To be considered, please submit an application, and be sure to include your areas of interest within the research institute.
High School Opportunities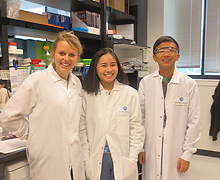 Hosted by the Science Education Department
Seattle Children's Science Education Department sponsors several different high school opportunities at the research institute in downtown Seattle. For more information and to apply, visit the Science Education Department page.
Other high school research opportunities
Many of our research labs have opportunities for high school interns and students throughout the year, with some open to students under 18. Roles may include administrative support for studies, assisting with communication to families, creating outreach materials or contributing in the lab. These roles give students a strong understanding of the many critical parts that go into a research study – and the many career opportunities that exist within research. To be considered, please submit the application on our application page, including your areas of interest within the research institute. Please note, the minimum age to participate is 16 years of age.